Misty Yacht Cruises Presents The Luxury Yacht
"Morning Mist"
5 CABINS, FOR UP TO 8 GUESTS
$1495 A Night
When you want a private getaway to experience the majesty of the San Francisco Bay, come aboard the Morning Mist and enjoy all that this luxury yacht has to offer. You can book this yacht as a dockside bed and breakfast or take a gorgeous cruise of the Bay and trip to the Golden Gate Bridge for a fabulous photo opp, or even a more lengthy 2-7 Day adventure up the Sacramento River to Sacramento. Have fun and find adventure exploring various river towns, the Morning Mist is a top rated luxury yacht that can offer you the experience of a lifetime. Contact Misty Yacht cruises for more information.
Gallery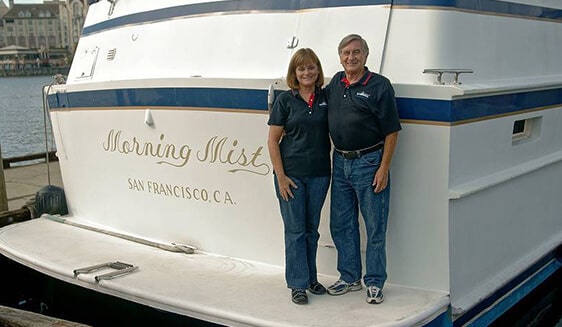 The Morning Mist is an 85′ Luxury Yacht that has 5 private in-suite cabins, each with its own TV. It has a piano, a 48" TV, and electric fireplace. You can book this yacht as a bed and breakfast or you can cruise the beautiful San Francisco Bay. The captain and his wife will be on board to make sure your stay on the Morning Mist is comfortable.
You can charter this yacht to cruise the wonderful sites of the San Francisco Bay, such as a trip under the Golden Gate Bridge, a 2 – 3 hour stop at Angel Island, and a leisurely cruise past the San Francisco water front. Another option would be to charter the yacht for up to 7 days to follow the old paddle wheel routes all the way up the Sacramento River to Sacramento.
Contact Us
Have questions or need help? Use the form to reach out and we will be in touch with you as quickly as possible.